Going natural is all the rave and no, I'm not talking about my hair this time. (I'll give you a few days before I drop that post on you.) I'm talking about household cleaning products, saying 'No' to processed food and removing any additional chemicals from your life. So one day while visiting with my best friend Google to research a medical concern (I know I know), I stumbled upon an interesting article about fibroids. It began to discuss the ways in which Western women handle that time of the month and the harms associated with the products we've come to rely on. I started to think about my own health and wanted to investigate the land of organic feminine products.
Well, where should one start to look when trying to make a very important decision such as this?  Google! I was amazed by the options. Then Google called YouTube and I started watching reviews. Armed with so many opinions and TMI, I made a plan to try a few to select what was best for me. Now, I was headed to Target.  I mean really, is there any other place that makes you feel good about spending your money even though you didn't need any of the items you purchased, NO! There were a few options on the shelves and I decided to try the Honest brand first.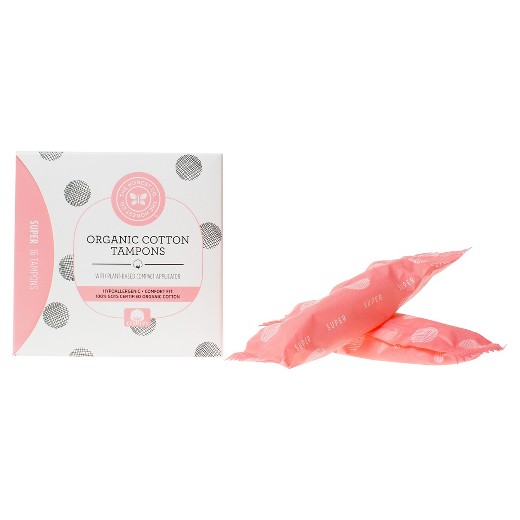 I couldn't really notice a difference between these and my old Tampax Pearls.  What was I suppose to be looking for? So, I just started to observe more closely and take notes. The first thing was the price. Eighteen (18) tampons in a box almost the same size as a softball and costs 2x the national brand for the same amount.  At $6.99, you could have 34 tampons from the P&G company. The writing was on my receipt, "if you want a healthy lifestyle, you have to pay more for it."  Not to be discouraged, I took it in stride and decided to use these in between depleting my current stock – which wasn't much but I'm not big on throwing away money. The next thing I noticed was the absorbency. It seemed like I was going through so many more of these. Super didn't feel like super to me.  That's all I'm going to say about that without being too graphic. I appreciated the smaller packaging and fun colors. It just fit in my pocket and I felt secure in the protection it would offer me if I was too far from my desk or home. I noticed I wasn't getting the headaches associated with this 3 to 4-day process. Then again that could've been in my head but hey I didn't have no damn headaches. During this trial period (no pun intended), I decided to not use them when I was going to be home, running really quick errands or overnight. This would call for me to go back to purchasing pads. I have a few in my closet from a previous event and decided to use those before I bought more. Honest had a selection of thin organic cotton pads but the absorbency of the tampons scared me from going further with this company. It was time to try something else.  Back to Target we go!
Cora was up next.  The sleek packaging made me feel like a grown woman.  It's not candy, its a tampon and I don't have to be ashamed.
They were $6.99 as well for 18.  What I noticed from the beginning was the comfort. These felt better to me. The headaches were non-existent still during the day and the absorbency was on point. A few times, I headed to the office restroom with urgency, only to find out everything was still okay. What a relief!  In conjunction with this brand, I was trying out L. panty liners because Cora doesn't have them.  That kinda disappointed me because I wanted to use products from the same brand. This made me want to give Honest a second chance but I had already made my final decision on them. I noticed the tampons for this brand as well but I was set on using the
ones in my cart. So, I left them right there on the shelf.  In this decreet bag, were 100 liners for $6.49. There was value all over this purchase.  At most, you use 12 a cycle.  This is almost a yearly supply. BINGO! The liners are very comfortable and come in a plain white packaging. Something else I noticed (only while typing this post) the larger bag features smaller bagged quantities inside. Which is perfect if you're a mom and you're purchasing for a household or sharing with others. Something that should be noted about all the products I tested, none featured perfumes or any type of fragrance. In addition, it seemed as if the waste had changed color. Then again it could be because I'm becoming an old lady but I'll take that up in a few years. LOL! I started doing more research on the Cora and L. brands. What I discovered was amazing – they have customizable subscriptions which can be delivered to your home and they're giving back by donating supplies to young women around the world. These were my kinds of companies.  This was very clever and with all this new information – I signed up for a subscription. Can you guess with which company?
That was probably a no-brainer. Let me tell you how this company won me over. It was all the black packaging. This was something I had never experienced.  It was chic, adult and classy. Then they displayed all the storage options I would get. There's a storage box for under the sink, on the vanity or nightstand. I was even thinking you could leave that in a powder room for guests. There's the clutch, which you can store up to four tampons in and carry it with you. No, digging to the bottom of your purse looking for a tampons or them all falling out if you spill the contents of your bag on the floor. It carries really well and I leave it right on my desk to pick up and go when the time comes.  And if that wasn't enough, they threw in six (6) stowaways. This thing rolls like a lipstick, lol. Perfect for a clutch, with one tampon inside you're good to out for a few hours. Just don't try to do 9-5 with a stowaway. They're meant for sharing with others but I had to keep a few for myself. 🙂
If you're interested in trying organic feminine products, use code marleaz9682 @ www.cora.life.